Trimlite Doors are paired with Cardinal Glass, Simpson Doors, Plastpro Doors and Mastergrain. We also provide doors from Masonite, Richersons, Codel, Alliance, and more. Unlimited choices and budget. All doors are white or wood grain and can be painted or stained.
Fiberglass doors are one of the most energy-efficient building products available on the market. Our fiberglass doors are energy efficient due to the insulation provided by their unique, high density, Polyurethane foam core.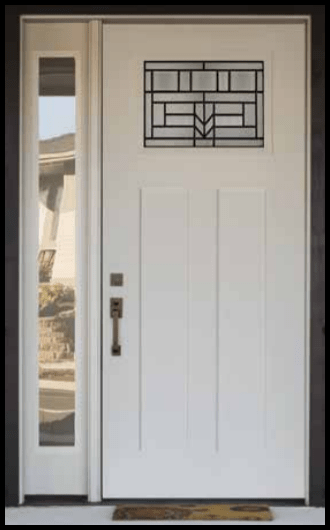 Step 1 – Choose a door style / panel
Step 2 – Choose the Doorlite (Glass Options)
Step 3 – Choose the Hardware
Step 4 – Enjoy your new door!
DOORS – PATENTED HYDROSHIELD™ TECHNOLOGY
FIBERGLASS REINFORCED DOOR SKINS
Our exclusive formula is measured precisely to ensure each skin is produced to the highest quality. With unlimited design options, customized panel configurations are possible. The skins require little maintenance and will not splinter, dent, warp, rot, or rust. They can be painted, stained, and we provide a variety of graining options.
FULL LENGTH COMPOSITE STILES
Our full-length composite stiles protect the door from external moisture to prevent warping or rotting. They have twice the screw-holding strength of wood.
COMPOSITE TOP & BOTTOM RAILS
High strength composite top and bottom rails prevent moisture from seeping into the door and stops the buildup of mold.
EXTENDED LOCKBLOCK
Plastpro's full length LVL allows any type of lock to be placed for increased security.
POLYURETHANE FOAM CORE
Our advanced CFC-free, high density, Polyurethane foam core enhances the door's soundproofing capabilities and provides insulation up to six times greater than wood doors.
Plastpro® Fiberglass Exterior Doors – Common Affordable Choice
If you're seeking a more solid and robust exterior door, PlastPro® models come equipped with Hydroshield™ technology, composite rails, and LVL lock blocks to give you unmatched strength and durability. Choose from Smooth Skin, Wood Grain, Rustic, Fir Grain, Mahogany, or White Oak series doors to create the look and curb appeal you want without compromising your home's integrity or security. Plastpro® fiberglass exterior doors prevent moisture from entering your home and can act as your home's first line of defense against weather, heat loss, and other unwanted factors.
Mastergrain™ Fiberglass Exterior Doors
Replicating the same look of real wood entry doors, Mastergrain™ doors are rot-resistant and constructed with composite rails. They don't dent the way that traditional wood doors can and instead provide a robust solution for those seeking the look of wood. Mastergrain™ doors don't have to be traditional in style, however. Trimlite carries modern front doors that can help you achieve the perfect look for your home regardless of your specific taste. From multi-panel to engraving or even stainless-steel inlays, these modern front doors will make an impact and set the tone for your home at first glance.

Simpson Exterior Wood Doors
Simpson Doors has been manufacturing exterior doors since 1912 and boasts a wide selection of timeless door styles. For those who want traditional wood entry doors, Simpson's exterior door suppliers do not disappoint. Their Bungalow series, Contemporary collection, Craftsman collection, Thermal Sash Doors, and Traditional collection provide multiple options to choose from to ensure that your style needs are met with ease.

GLASS – Doorlites and Options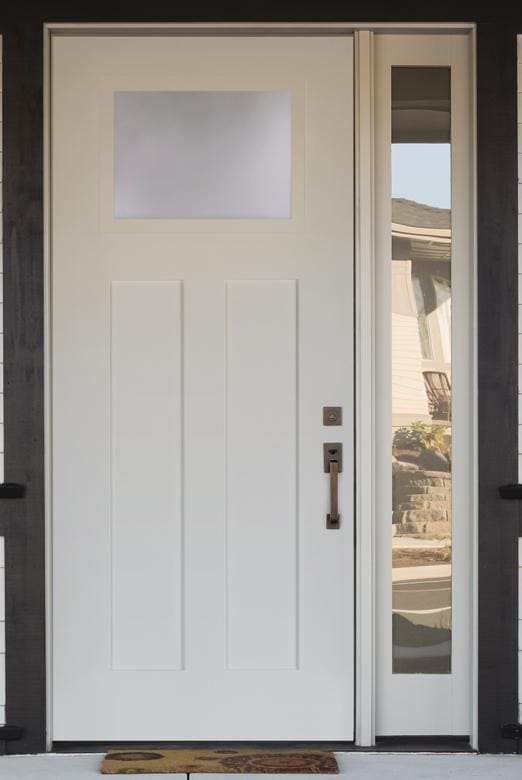 Solution Series Glass – View Inspiration options on Trimlite.com
Trimlite's Solution Series gives you frames with clean lines, simple design, and peace of mind. The Solutions Series collection is perfect for any entryway where you want the exterior glass insert and door to be the star, without having any obstructions from the frame. With beautiful textured glass options and no visible holes, plugs, or screws, these door frames combine durability and beauty. Our patented frame technology uses a compression seal and interlocking joints to adhere to your door, creating a powerful bond. The Solution Series can be used for Modern, Craftsman or Mid-Century architectural styles, making it the perfect option for you!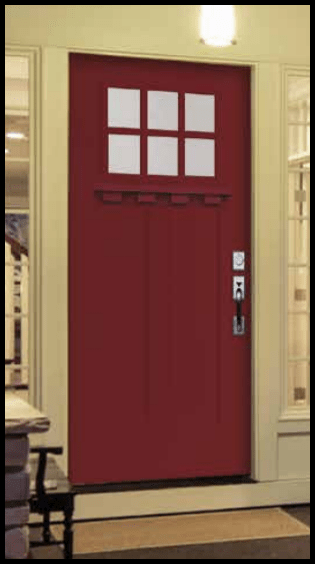 Internal Grids and Simulated Divided Lites (SDL) – View Inspiration options on Trimlite.com
Trimlite has a collection of Internal Window Grid Insert Doorlites and Sidelites, perfect for giving your entryway a traditional look. Pick the white flat bar window grid insert for a smooth, clean finish, or go with the white contour bar for added texture and interest. With a variety of sizes available, these exterior wood door glass inserts can be a classic addition to any home. Create your own pattern choice with our SDL bars. Our SDL Bars complement any full lite flush-glazed Plastpro doors. We provide 23 unique options in Smooth White or Tan Woodgrain that can make your entry modern or traditional.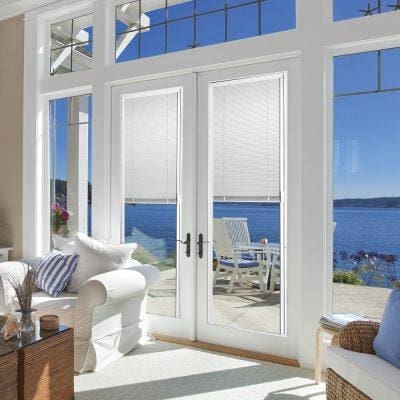 Internal Blinds – View Inspiration options on Trimlite.com
Trimlite's Internal Blinds Doorlites combine functionality with durability. With these modern entry doorlites, there is no more dusting and no more exposed cords! These doorlites have the ability to raise/lower AND tilt the blinds, with one easy-to-use control system. Customize the amount of privacy you want and the amount of sunlight you let into the room, with these in between the glass blinds. Available in Low E glass, for added energy efficiency.
Venting – View Inspiration options on Trimlite.com
Trimlite's Venting Doorlites are a great way to bring fresh air from the outdoors into your home. There are half-lite, ¾ lite, and even full lite options, giving you the opportunity to pick what will work best in your home! All Venting Doorlites have an ergonomic handle design, combining functionality with a modern look. The screens are removable, making cleaning the vent lite door insert super easy! Try our "EZ" Lift Venting Doorlite, which incorporates a spring assist for easy operation and a cam lock for peace of mind.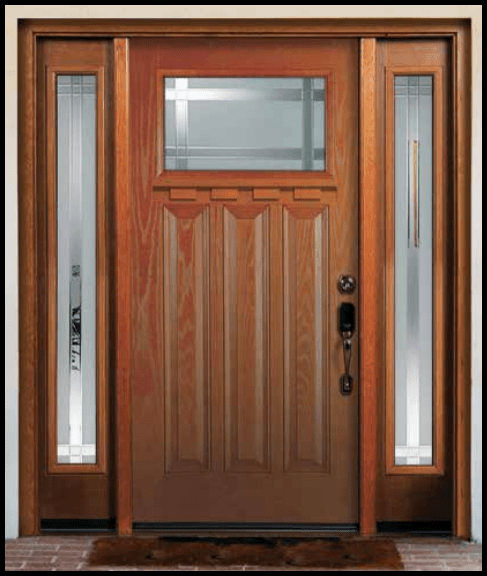 Exterior Door Accessories – View options on Trimlite.com
With 9 different options, you won't have to look anywhere else to find the perfect speakeasy, clavos, craftsman shelf, or strap for your exterior door. Whether it is a new accessory for your front door, or accessories for your entire home, Trimlite is here to help you with your project. Our fiberglass door accessories are crafted by our skilled artisans, providing a unique look for your front door or entryway. Our fiberglass accessories can complement any entry door style, from traditional to contemporary, and anything in between. Contact us for more information about our accessories.